Kiwi websites built and hosted using state-of-the art software
We are a small company based in Wellington, New Zealand. We have been providing website design and hosting for over 10 years. As a small New Zealand business we understand other New Zealand businesses.
Dear John makes web hosting and website development easy and affordable for small businesses and businesses who are just starting out. Our sites grow with your business.
Are you a web designer who needs hosting for your clients?
We'd like to talk about providing an excellent service to your clients which will also add to your bottom line.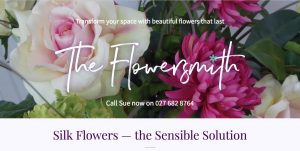 Sue Skene
Just to say that I am very pleased with my website! Have just been looking at it on my phone too and that works very well! Many thanks for everything. We got there in the end.
http://theflowersmith.co.nz/
There's a scam going around at the moment. One of our clients got it via a "contact us" form, but its also been seen as an unsolicited email. The gist of the email is that they have  hacked your database and are going to destroy your site's reputation — they appear to be demanding US$2000…
Read More
We help Wellington businesses kick-start their online marketing with effective websites, first class website care packages, branding and marketing materials. We pride ourselves on listening a providing a clearly priced, cost-effective solution.
Once final payment is made, you own all  materials developed for you, and we use technology which means you control your website with no long-term lock in to us.
P.O. Box 41055, Lower Hutt 5047, NEW ZEALAND
© 2021 Dear John - Web Hosting For Kiwis. All Rights Reserved.